** LET YOUR COLORS BURST! **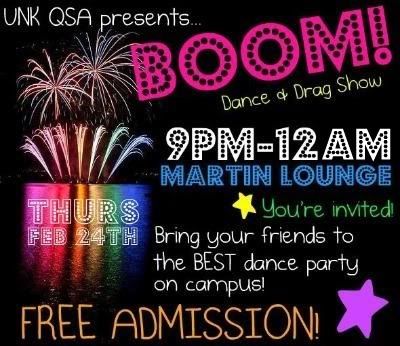 Come to Martin Lounge (904 W. 27th St.) at 9PM Thursday Feb 24 to DANCE hardcore in a club-like atmosphere!
We'll be having some AMAZING drag performers coming from Club Q to entertain us for the night: Kharizma Valentine, Sharen Shorts Cox, and Jessica Cass Bauer. We've seen them get down before, and WOW - you won't want to miss it. We also have added Stella Starlight, a queen straight from Kearney, to our list of performers! It's going to be awesome.
Refreshments will be provided, and there will be no admission charge! However, if you have some 1 dollar bills to tip our lovely performers (they're making a long trip for us!), we would appreciate it very much :)
Save the date! It's going to be QSA's biggest event yet. And best of all - everyone and anyone will be welcomed and accepted. ♥
Email me if you have any questions! workmanjl@lopers.unk.edu
-Jenna